2018 Family Event
Now in Two Locations
You and your family are invited to EXPLORE, DISCOVER and WALK through 12 stores in Franklin, TN and Wheaton, IL on a Passion Art Walk open March 26-31, 2018.
12 Artists have created commissioned pieces of artwork depicting the Biblical Story of the Passion for 12 stores in both Franklin, TN and Wheaton, IL.
Each piece tells the story through the actions of the HANDS at that point of the Passion story.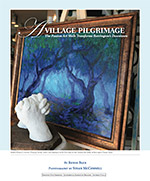 Read about the 2013 Passion Art Walk in Barrington, IL.
12 Stores • 12 Artists
A WALK TO REMEMBER
Franklin, TN
March 26–31, 2018
---
Call for Artists
12 Stores • 12 Artists
A WALK TO REMEMBER
Wheaton, IL
March 26–31, 2018
---
Call for Artists