Family Event
You and your family are invited to EXPLORE, DISCOVER and WALK through 12 stores in Wheaton, IL on a Passion Art Walk open March 26-31, 2018.
12 Artists have created commissioned pieces of artwork depicting the Biblical Story of the Passion for 12 stores in Wheaton, IL.
12 Stores • 12 Artists
A WALK TO REMEMBER
March 26th - 31st
Each piece tells the story through the actions of the HANDS at that point of the Passion story.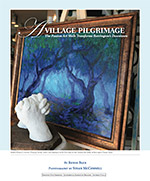 Read about the 2013 Passion Art Walk in Barrington, IL.
Easter Services
People from the community are encouraged to attend their local churches for Easter services, on Sunday April 1st.
Church Partners
College Church
Faith Covenant
First Baptist Church
First Presbyterian Church
Gary United Methodist Church
Glen Ellyn Covenant Church
Holy Cross Lutheran Church
Pleasant Hill Community Church
St. John the Baptist Catholic Church
St. John's Lutheran
St. Luke's Catholic Church
St. Matthew United Church of Christ
St. Michael's Catholic Church
St. Paul Lutheran
Trinity Episcopal
Vineyard Church of DuPage
Wellspring Alliance Church
Wheaton Bible Church


Free Daily
Art Tours
Start noon at Stop 1, Suzette's Creperie.
March 26th - 31st